Membership
Membership of Southwark Teaching School Alliance offers a unique opportunity to become part of a school improvement movement led entirely by Southwark schools for all Southwark schools and learners. As a member you will learn from, with and on behalf of the richly diverse schools in our borough, experiencing deep professional development and the chance to extend your impact beyond school boundaries.
Membership of our inclusive Alliance is available to all schools, regardless of type or where they are on their improvement journey. All we ask is that you come willing to work openly and in equal partnership with your peers to secure better outcomes for all.
The Alliance is not-for-profit and discounted membership is available to any school contributing significant time and expertise as a Strategic Partner. This is something every school joining the Alliance is encouraged to do, as we value deeper engagement over payment of higher fees.
Member benefits
The benefits your school will receive reflect our 'presumption of partnership' and are designed to strengthen your own school and practice, and the Alliance as a whole. Benefits include:
Enrolment in the peer review programme which provides the underpinning for collaboration, support and challenge across our Alliance (full price c£1,200)
Up to 4 days of Specialist Leader of Education consultancy or bespoke training based on your priorities, delivered by expert Southwark practitioners (usually charged at £350 per day)
Up to 20% discounts on CPD delivered locally and tailored to the local context, including £100 off NPQML places and £200 off NPQSL places (up to a maximum of 8)
Priority access to participation in any activities funded through bids
Discounts negotiated with partner organisations
Annual fees
Our membership fee is based on school size and whether you contribute to the Alliance as a Strategic Partner.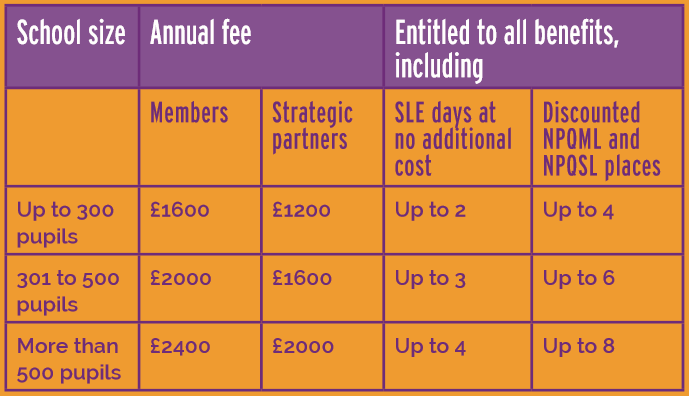 Non-members may, as now, participate in Alliance activities on a pay-as-you-go basis. However, priority will be given to members.
How to join
If you'd like to join us as a Strategic Partner or Member, please contact info@southwarktsa.co.uk.
Current Strategic Partners and Members
To see a list of current Strategic Partners and Members, click here.