Leading with Confidence
"This has been the best programme I have been on throughout my career and I am so grateful to you. It has been wonderful to be with so many inspiring female leaders and the words of advice and modelling from others has had a profound effect on me. I have always been affected by imposter syndrome and even when I got my new post all I thought was, 'why me?' Thanks to your programme, there has been a tangible shift of my mindset to 'why not me?'" 2016/17 participant
The programme
Leading with Confidence is a leadership development programme like no other. Designed exclusively for women, it enables experienced middle leaders and senior leaders to develop the confidence, skills and attributes needed to progress in senior leadership and towards headship.
Now in its second year and fully funded from the NCTL Leadership Equality and Diversity Fund, the programme:
Sharpens your leadership skills, through sessions tailored to your needs
Offers insights and inspiration from female leaders, including shadowing opportunities
Provides mentoring and coaching from successful female leaders
Prepares you for application and interview success
Explores the joys and challenges of combining motherhood and senior leadership
Creates a powerful network of like-minded female leaders
A full programme outline and session dates are available below.
Securing your place and programme requirements
To secure your place you will need to complete this form confirming your commitment to fulfilling the requirements of the programme:
Attend the induction, residential, five twilight sessions and final graduation event. We expect all session, except the residential, to be held in South London. We invite programme participants to host a session at their school and offer a tour afterwards if possible.
Complete self-evaluations at the beginning and end of the programme, and a 360 feedback exercise. This will help you assess your strengths and development areas, and enable us to tailor the programme to your needs.
Complete a short online survey for NCTL at the beginning and end of the programme, and provide information to enable us to meet NCTL reporting requirements.
Pay an upfront "commitment fee" of £250. This will be returned at the end of the programme providing the above requirements are met. If someone else from your school or organisation is taking part in this or the Leadership Beyond One School programme, your school/organisation will only be charged one commitment fee, but return of the money will be dependent on all participants from your school/organisation fulfilling the programme requirements.
Programme Outline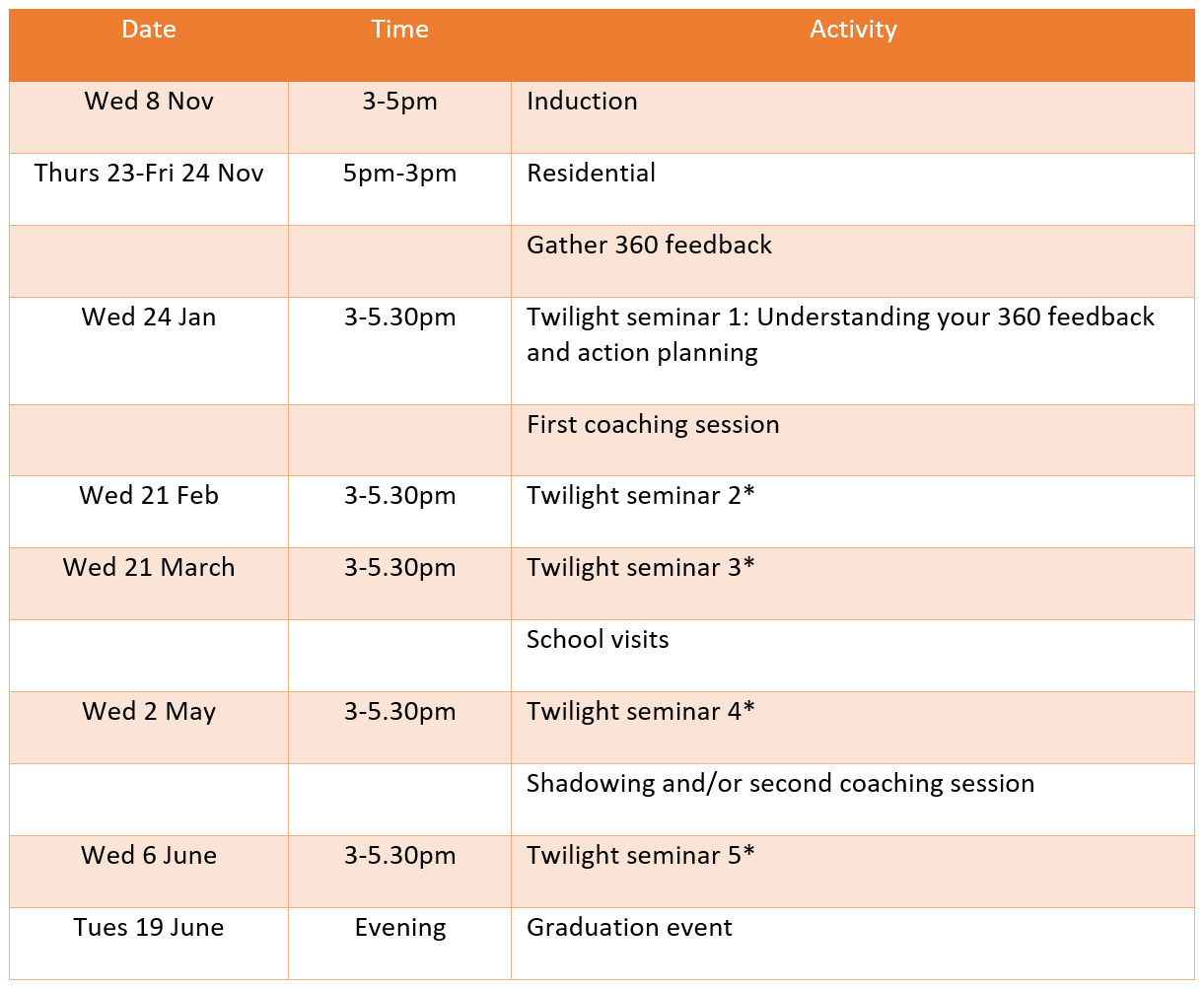 *The focus of twilight seminars 2-5 will respond to participant self-evaluation and need. Last year's seminars included:
Connecting with your "why" – you as a leader, your vision, and values
Successful strategic planning – including what you need to know about HR, finance, and curriculum modelling
How to write an amazing application and be impressive at interview
Preparing for your first 100 days in a headship / in a new role
Leading by example – being a successful leader and mum and/or supporting others to do the same